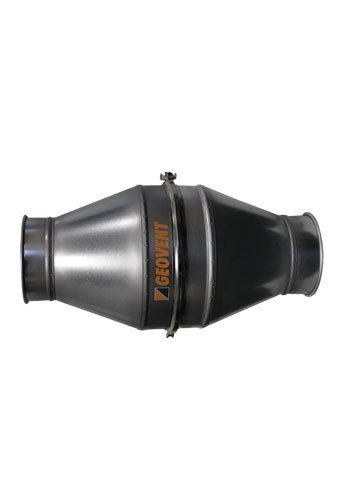 Spark arrestor reduces the risk of fire in the filter
Spark arrestor reduces the risk of fire in the filter
With Geovent spark arrestor installed in the pipe system, the risk of fire in the filter is reduced, as any sparks are captured before they reach the filter.
Geovent spark arrestor can be mounted quickly and easily, both in new and existing pipe systems.
The spark arrestor can be easily fitted into installations with other Geovent products.
It is fitted with clamps and can therefore be easily dismantled and cleaned.
The function of the spark arrestor is based on a simple principle – the air flow is slowed down and thus the sparks cool down and disappear.
IMPORTANT: The spark arrestor must be mounted horizontally.
Spark arrest main benefits are:
• Supplementary fire prevention for dust collection systems.
• Simple and economical solution.
• Quick, easy installation and cleaning.
• There are no moving parts in the spark arrestor.
• No electricity needs to be connected.
GEOVENT A/S is also able to deliver customized solutions.
Below we show a selection of installation examples where we have found a solution for the customer.
Beritech Solutions are specialists in fluid handling, process technology and plant engineering.
Read More »
Fast Delivery
We offer the best delivery time in the industry!
We appreciate when customers order goods well in advance – but we also understand, that is can be difficult. Therefore, we want to be part of the solution.
Our priority is to have a relatively large stock, because we know that it creates value for our customers. Therefore, we always have a wide range of extraction arms, hose reels, filters and other components for ventilation and extraction systems in stock.
Delivery of standard products with short notice we see as a part of the optimal service for you.
We keep focus on servicing our customers
We have considerable experience in solving even the most complex special tasks.
We believe in long term relationships with Partners, distributors and end customers. We believe in a constructive cooperation, where we literally do what we can to help each other!
We have a wide range of standard products, which we combine to an efficient and competitive solution for you. If necessary, however, we are ready to use our long term experience to develop a special solution to your exact need.
Please feel free to contact us with any inquiry you may have.
Competent guidance is your guarantee for feeling secure
We have considerable experience in solving even the most complex special tasks.
If you cannot find what you are looking for on our website, we can probably help you develop the solution.
Contact us and let us talk about the opportunities
Tell us what we can help with, and we will get back to you.